My top gig of recent years was Branford Marsalis at the Bath Festival with Empirical in the support slot. Also currently loving Empirical (Nathaniel Facey – Alto Sax), Get the Blessing (Jake McMurchie – Tenor Sax) and James Morton's Porkchop CDs.

Branford Marsalis has the right mix of energy, virtuosity and beauty in his playing. He can swap between a driving post-bop solo in one tune and then deliver a sweet lyrical ballad in the next with swan-like grace. His command over the instrument gave the audience no question that they were in good hands. Known chiefly for his tenor playing, it was great to see him pick up the alto for his own recent composition, Jabberwocky.

Other great sax players I've seen include :
Courtney Pine – always a show-stopper with fantastic technique – always demonstrates his prowess at circular breathing!
Soweto Kinch – great youthful energy paired with impeccable playing – he's fast and furious and adds a contemporary hip-hop slant to his jazz.
Sherman Irby in the Wynton Marsalis Jazz at Lincoln Center Orchestra was a formidable player.
Fela Kuti at Glastonbury Festival many years ago was one to remember – a blisteringly good saxophonist with a style and tone all of his own.
Alan Barnes is always fantastic – a virtuoso on all the saxes and clarinet.
Ornette Coleman at the New Orleans Jazz Fest in 2003 was one to add to the memory album – still plenty of energy to keep his band on their toes and altruistically gave the stage up to two younger players too.
Also loved Barbara Thompson – beautiful lyrical playing. Apollo Saxophone Quartet played an interesting mix of musical styles and had mesmerising skill and technique.



<!- Mr Blowout Sax Blog Button ->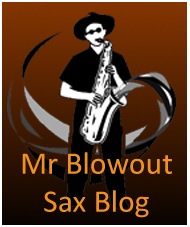 <!- Licensing Button ->