Fave Players



Ten Great Sax Players You've (Probably) Never Heard Of
Rich Perry is a masterful jazz tenor player who rewards repeated listening. His subtly unpredictable phrasing and melodic conception are all couched in a soft-edged tone which is easy to miss if you're not paying attention. He is a graduate of number of great contemporary big bands such as those of Mel Lewis, Jones/Lewis and Maria Schneider. For this original 'mainstream' voice check out his CDs on SteepleChase.

The late great Steve Lacy was an inspirational musician and teacher who specialised in the tough discipline of the soprano saxophone virtuoso. Steve Lacy began his career as Dixieland player but discovered the music of Thelonius Monk and from that point never looked back. A dedicated avant-gardist Steve Lacy was always an interestingly melodic player. He published a brilliant work of sax instruction Findings which boasts chapters with titles like 'The sax can moo' and 'No Baby'. Listen to his phenomenal musicality on his solo on Mal Waldron's The Seagulls of Kristiansund where Lacy takes the soprano literally beyond the limits of the human ear.

Fred Anderson ran the Velvet Lounge in Chicago. A big tenor player with a distinctive playing posture (bending very far forward. Fred played in a free jazz style that is rooted the tradition of swing and bebop. Fred was a founder-member of the AACM (Association for the Advancement of Creative Musicians) and was a keen educator and proselytiser for creative music. He wore a selection of great hats and used to swing with the energy of a man half his age. Have a dekho at his DVD documentary Live at the Velvet Lounge.

Dave Ellis was a ten-year old child prodigy who went on to become part of the 'new jazz' movement on the West Coast of the States in the early nineties. His collaboration with eight string guitarist Charlie Hunter produced some startlingly original albums. Listen to one of the earliest, Bing bing bing!, on Blue Note (enjoy the cover version of Nirvana's Come As You Are) .

Bobby Wellins is a national treasure - one of the great original tenor stylists that these shores have produced. Bobby's tone is all is immediately recognisable and glorious. His melodic invention and harmonic sensitivity are a delight. If you don't believe me, check out his classic work with Stan Tracey -- Under Milk Wood. If you don't think that his playing on the track 'Starless and Bible Black' is not painfully tender and deeply lustrous, then give up music and take up freestyle woodwork.

Barney Wilen was a French-American tenorist whose conception was a unique blend of the glories of Parisian jazz with the tone and attitude of a stateside player. He was barely 20 years old when he worked with Miles Davis on the soundtrack to the film Ascenseur pour l'Echafaud. His restless intelligence led him to play and investigate the music of North Africa and further afield. Anything by Barney is worth listening to but try the 21 year old Barney to be heard on Jazz sur Seine.

Frankie Trumbauer was a skilled aviator who took extended leave in the 1920s and 1930s to play C- melody saxophone. He also happened to be one of the greatest technical players of the saxophone - ever. A short hearing of his eponymous composition Trumbology should prove that point beyond doubt. However, Tram was more than a mere technician; he was one of the few white musicians of the 20s and 30s who really could play the blues with soul. Of course, he does a bit strange to modern ears as it was all a long time ago. But have a little patience and try to tune yourself into this matchless stylist.

Joe Harriott was a Jamaican alto player who was based in England in the 1950s. Joe was a product of two Jamaican institutions - the Alpha Boys School and the School's formidable music teacher Sister Mary Ignatius Davis. Joe Harriott always played with great lyricism and great tonal finesse whether he was involved in the bebop-style jazz of the 50s or his new free playing that grew out of his own musical convictions. Joe Harriott's jazz odyssey was a story typical of the neglect and lack of recognition that is so often the penalty for musical genius. He did not play for the last four years of his life, was neglected and destitute and died of cancer in Southampton. However, he extended the realm of the possible for the jazz ensemble and tried to argue for a looser, freer and more dialogic form of group improvisation. He still sounds fresh and pertinent. Try his album Free Form.

Joe McPhee is a phenomenon. Firstly, he is a multi-instrumentalist who plays the saxophone pocket trumpet, clarinet, valve trombone, piano and various electronic instruments. Secondly, he is a tireless innovator mixing bebop and blues and electronica that somehow produces music that is direct soulful and challenging. As New York Time Out put it "His magical take on avant-garde sax remains one of the wonders of the scene. He still has one of the most beautiful tones on the planet, even when he's reaching for jazz's outer limits. Try any of his CDs but look out for recordings by Trio X (a trio he's formed with Dominic Duval and Jay Rosen)

Jimmy Giuffre gets in here just under the wire. Strictly speaking, his greatest contributions to jazz performance were made on the clarinet, but he was an interestingly individual tenor and baritone player. Starting his music career as an arranger for Woody Herman Jimmy Giuffre became one of the leading exponents of West Coast 'cool' jazz. Jimmy's preferred genre at this time he dubbed 'blues-based folk jazz'. It was this interest in older forms of American popular music that led him ironically into a quiet, but revolutionary strand of free jazz. To get a flavour of this subtle, soulful folk saxophonist check out his composition The Train and The River as it is played over the opening sequence of that amazing film Jazz on a Summer's Day.



<!- Mr Blowout Sax Blog Button ->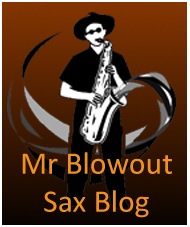 <!- Licensing Button ->