Profile - Stan Scott



Stan Scott is living proof that the lack of a formal music education is no barrier to the enjoyment of learning, playing and teaching the saxophone.

As a late starter on the sax (and he won't tell you how late) Stan never planned any kind of career in music. He never imagined that he would ever become a professional musician; let alone work for over decade as an active, enthusiastic and successful teacher of the saxophone.

Stan Scott has been teaching at Blowout Sax since November 2000. All of his teaching is based on the premise that anyone with a keen appetite for music and music making can become proficient on the sax regardless of age or gender or lack of previous musical education.

This belief is based on his own experience with the saxophone. Every one of his teaching sessions underlines this point repeatedly so that even his most unconfident students soon learn to value their own individual abilities and skills.

As a player Stan has years of experience on the Bath/Bristol scene performing in groups of all sizes and in every imaginable musical style.

When not teaching or gigging, Stan is busy writing a book on the art of jazz improvisation and composing original pieces for small jazz ensembles. Stan teaches tenor, alto and soprano saxophones.

Stan plays tenor sax in a number of ensembles in the Bath-Bristol area.
He is a member of the funk starship Metropolis which has been making punters ears bleed since God was a boy. Their idiosyncratic take on tunes like the Starsky and Hutch theme tune, Pick Up the Pieces and Also Sprach Zarathustra have to be experienced to be believed.

Stan also plays in Duenna which features the truly brilliant vocal talent of Celestine and the keyboard genius of Nigel Jeffries.

In the area of mainstream straight-ahead jazz Stan is also a member of the Mel Henry Quintet.

Recent guest artistes with the Quintet have included Damon Brown, Clive Morton, Anders Olinder et al.
Stan is also one quarter of the Guy Harrup Quartet which plays regularly at the Green Park Brasserie. Guy is one of the most versatile and gifted jazz guitarists currently gigging in the South West.



<!- Mr Blowout Sax Blog Button ->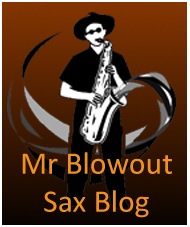 <!- Licensing Button ->