Craig's Testimonials



My son Lewis and myself now play the Tenor Saxophone. Lewis started blowing at the age of nine on alto sax, and myself, Tenor sax at Thirty plus Eight years young as a Front Lounge Player.

Lewis first had lessons by a Local Ex Military Sax Player at home for about a year and was taken as far as he thought he could take him. In fairness the guy didn't 'milk' the student situation and said that he needed to go forward with a more professional teacher.

Lewis was heartbroken to learn that his first teacher was no longer to teach him. My wife and I searched for months to find another tutor, but to no avail. Then one of Lewis's primary school teachers found out about The Blowout Sax School in Bath. I called them and left a message, Mark Archer suggested that we could attend a Blowout Sax Student Gig that just by chance was on the next week in Bath.

Lewis and myself were blown away by the whole thing, the sound of Craig Crofton, Mark Archer (The Eccentric Master) and all of the chosen students just blew both of us away. It was then that we both started to blow the Tenor sax. We came out of there BUZZING and we both couldn't wait to pick up our horns.

Lewis's first lesson with Craig Crofton was then arranged; From that day on, our Saxophone Affair started big time, and it's still going from strength to strength.

Craig and Mark together can teach all ages to play and have FUN using a unique way of playing using simple notes that are presented in terms that even a seven year old can understand ( you also go home each time with a backing track).
They teach you not only in this manner, but also Notation Sight Reading, Playing by training your 'Ear' and also Improvisation.
Lewis is now Fourteen and is taking his Grade six in Jazz (even played on stage with Kasabian's drummer).
As for me, Craig says I am now an Advanced Student and at Forty plus Eight I'm just about to start playing in a group. I would like to thank Craig and Mark for both of their Passion and FUN approach to learning the Saxophone. My advice to anyone, Young or Old who wants to play the Saxophone, PLEASE don't delay, call these Guys.

Lewis Blanks (Vintage 1940 Conn 10m Tenor Sax- with Guardala MB11 Gold Metal Mouthpiece and Vandoren Java 2.5 Reed).

Steve Blanks (Vintage 1937 Conn 30m Conqueror Tenor Sax-with Vintage Guardala MB Gold Metal Mouthpiece and Vandoren Java 2.5 Reed).


---



The first time I met Craig was at a jam night in Bristol. It was a great evening and the standard was pretty high and listening to Craig I knew he had his playing down.

I came back to the jam a week later and Craig was there again. I overheard him talking about lessons to someone and later that evening I asked if he could give me a few.
We met up every other Monday. It was great. He taught loads of important lessons on jazz -- for example we got quite deep into modes and how to use them on chord changes.

What he used to say to me was 'you got to tame the beast man'. I am quite an aggressive player so I would go for it in every solo, but it was a lesson to draw people into my solos by taming the beast.

We looked at other devices to use in soloing such as Eddie Harris's solo on 'Listen Here' and how he was able to make a fantastic solo on just a C blues scale and not add in any outside notes, also the way Eddie made that solo sound like a question and answer by repeating a little phrase every other bar. Before I had lessons with Craig I questioned going to a university but he made me think twice, so I applied to Trinity College of Music. I got an audition date and that's when Craig and I set about how I would get in. He got two tunes for me to play, 'Scrapple from the Apple' and 'Maiden Voyage'.
The two tunes are totally different, 'Scrapple' is a fast bebop tune and 'Maiden Voyage' is slow and modern in relation to 'Scrapple'.
We looked into the tunes in depth and I felt confident that I might get in to Trinity and Bob's your uncle I did. Well worth having lessons of Craig -- he's a great guy too.
Stephen Mathers

---



When I first started playing the sax I loved it, but it quickly became more of a chore than enjoyable because of the teacher had at the time. A week later I met Craig Crofton at The Blowout Sax School, who from then on has opened a whole new world of music to me. He has now been teaching me for ten years.

He has seen me grow personally and musically, and has guided me through for these years, from timid novice to a well-rounded confident young musician. Not only has he taught me musically, he has also taught me about the industry and has written me references, one of which was a major part of me wining a young talent award from the Musicians Benevolent Fund.

He has also set up gigs for me, which have eased my transition from playing in my room, to being paid to perform in public.

With that my confidence has grown and I now play in two Jazz quartets and a Ska/Funk Band who have won several competitions.
There are also Blowout Sax School gigs that are always packed, which is an opportunity to play with some amazing musicians and to have fun.

All in all I'm sure that if 10 years back I had stayed with the teacher I had originally I would no longer play the sax.
Adam McLoughlin Tenor and Soprano Saxophonist


---



I started having lessons at Blowout Sax because I was recommended it by a friend because I was finding my previous teacher a bit... boring.
However I definitely did not have that problem at all when I started having lessons with Blowout Sax. I have looked forward to every single lesson since my first time at Blowout Sax and have never considered changing to anybody else.
Every teacher (that I have had lessons with) has been encouraging and left me feeling chirpy after every lesson.
I was also lucky enough to join just before they broke the world record for the highest number of saxes playing at one time, which will be something that I will always remember being a part of. One of my favorite parts of being with Blowout Sax is the live performance that takes place. It feels great to join with other sax players with a great band behind you and play in front of a crowd. It is a great feeling...
Charlie Millard



<!- Mr Blowout Sax Blog Button ->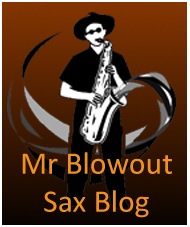 <!- Licensing Button ->