The Big Blowout Diary



The Big Blowout Diary is an entertaining, hilarious, informative and honest account of how Mark Archer and Blowout Sax team got together over 529 saxophonists of all ages and abilities and smashed the world record for the biggest saxophone ensemble of its time. The performance was live in front of 25,000 people, with the historic Royal Crescent in the world heritage city of Bath England as the backdrop, at the opening night of Bath Music Festival 2004. Imagine the magnificent sound and the spine-tingling moment as 529 saxophones sung out to break the record on that beautiful summer's evening.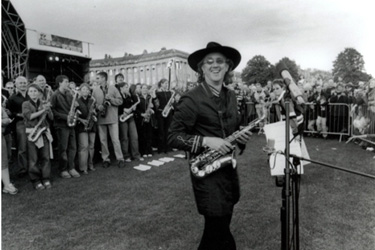 …and now The Big Blowout – the ultimate saxophone movement - can be relived through the spoken words of Mark Archer, the diary's author and the driving force behind the world record. This entertaining tale is being brought to you as a series of enjoyable, witty and inspirational podcasts and will appeal to saxophonists, musicians, music listeners and lovers, anyone interested in the sax or breaking a world record!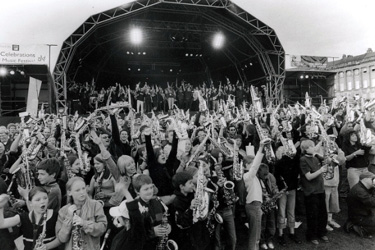 Go and have a listen and enjoy the opening chapter as Mark reveals what inspired the idea of The Big Blowout and how Blowout Sax believed it could inspire saxophonists of all ages and walks of life to join in our world record dream. The initial aim was to further increase The Blowout Sax School's credibility in their highly original approach to learning the sax. This aim was soon furthered with the launch of the first edition of Blowout Sax - The Revolutionary Approach book.

Join us in reliving the start of the journey as we describe the beginning of The Big Blowout as a cunning plan, and how the key to getting a slot with Bath Music Festivals was to enlist the involvement of that hugely gifted Will Gregory of Goldfrapp and finally how the location and glorious setting was then sealed by Bath Festivals Trust as a fait accompli.

Big Blowout Diary Chapter 1


Big Blowout Diary Chapter 1