Introduction to Chattage



Welcome to Chattage where we are going to put podcasts and interviews of all sorts of interesting saxophone information. To start chattage The Big Blowout Diary Chapter 1.

The Big Blowout Diary is an entertaining, hilarious, informative and honest account of how Mark Archer and Blowout Sax team got together over 529 saxophonists of all ages and abilities and smashed the world record for the biggest saxophone ensemble of its time. The performance was live in front of 25,000 people, with the historic Royal Crescent in the world heritage city of Bath England as the backdrop, at the opening night of Bath Music Festival 2004. Imagine the magnificent sound and the spine-tingling moment as 529 saxophones sung out to break the record on that beautiful summer's evening.

…and now The Big Blowout – the ultimate saxophone movement - can be relived through the spoken words of Mark Archer, the diary's author and the driving force behind the world record. This entertaining tale is being brought to you as a series of enjoyable, witty and inspirational podcasts and will appeal to saxophonists, musicians, music listeners and lovers, anyone interested in the sax or breaking a world record!

Next we have some inspired soundbites from Will Gregory of Goldfrapp fame and once the saxman for Tears For Fears.
He talks about 'The Big Blowout' project ,the Blowout Sax school and the saxophone's universal appeal.

The third part of the start of chattage is Pete Wareham of Acoustic Ladyland and Polar Bear when we met him and had a chat last year.

Other projects in the pipeline are the extracts from Mark's forthcoming saxophone jukebox musical 'The Devils' Horn', Stan and Mark talking through a Saxology great and a meet with top DJ and co-writer of Sax Madmen Tony Clark.



<!- Mr Blowout Sax Blog Button ->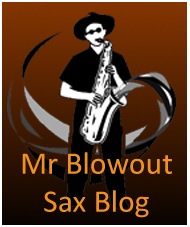 <!- Licensing Button ->